Edgewater Woodwork is the carpentry of Bill Cigliano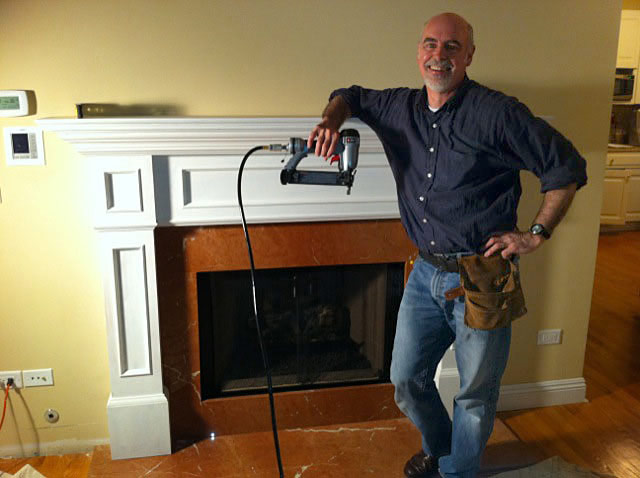 Edgewater Woodwork is the home of carpenter Bill Cigliano's work. An illustrator and fine artist for thirty plus years, Bill brings a unique creative background to his carpentry. The fine attention to detail and aesthetics that he has brought to painting illustrations for many of the country's leading publishers and advertising agencies can also be found in the carpentry he creates.
After many years of working on rehabbing the vintage Victorian home he, his wife and two daughters have lived in he took the suggestion of a designer friend and turned his carpentry skills to working professionally on projects for other folk's homes. Initially it was building and designing decks for a handful of neighbors in his Edgewater Glen neighborhood, that quickly grew through referrals to commissions for other outdoor and also fine interior cabinet grade work both in the city and suburbs.
"As a kid growing up my Dad always had a wood shop in our house. Working together with him in the shop gave me a basic woodworking vocabulary to build on. As an adult years of working on our own vintage home in the Edgewater Glen neighborhood and now those of friends and neighbors has given me a further unique insight into the materials and details of these beautiful old homes. I love working on the fine details of the interior grade carpentry in my shop, but also working outside on an excellent summer day can't be beat. Designing and building decks is a favorite. I've had the opportunity to collaborate with some really talented architects and designers on some of the projects you see here. Because of my creative background and training I'm also able to develop excellent design solutions and present drawings on projects as well. Whether collaborating with an architect or designing myself I really enjoy the process and am mindful of sustainable construction, work that lasts, especially with outdoor construction.
Bill's graphic arts background includes a BFA from Miami University of Ohio. Besides the carpentry you see here, his illustration and fine art paintings can be viewed at www.billcigliano.com and www.ciglianoarts.com.  A few of his publishing and advertising clients have included The NY Times Book Review, Boy's Life Magazine, Chicago Magazine, The Chicago Tribune, Abbott Laboratories, IBM, Major League Baseball, Warner Bros. and Harper Collins Books.